Shipping only in Continental US
Tea Party Special!
---
Historical Flags.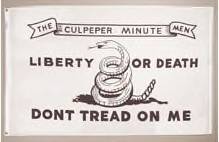 Culpeper Flag
3' by 5'
Nylon $39.80
Polyester $10.00
This is the immortal banner of the Culpeper Minute-Men, who fought bravely against the British in the American Revolution. Like the Gadsden Flag and the First Navy Jack, it contains a Timber Rattlesnake with the words, "Don't Tread on Me," a powerful expression of resistance to the British. It also contains the words of their legendary commander, Patrick Henry, whose famous slogan "Liberty or Death" inspired many Colonial Forces to fight for the former at any cost. The Culpeper Minute-Men fought bravely under this flag, striking many decisive blows against the British Infantry. They were a self equipped Militia, known for their irregular but effective tactics.
---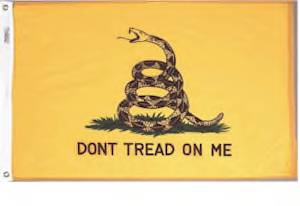 Gadsden Flag
3' x 5'
Nylon $35.90
Polyester $10.00
The rattlesnake flags were the product of the southern colonies. One of the first of these was the Gadsden Flag, devised by Colonel Christopher Gadsden, a patriot of South Carolina, and presented to Congress with the expressed desire that it be designated as the flag of the Commander of the American Navy. Congress thanked him for the idea and discussed Benjamin Franklin's analysis of the Rattlesnake, but declined to incorporate it into law. It is claimed that the Gadsden Flag was flown on the "Alfred" as the personal banner of commander Esek Hopkins, Commander of the American Navy. It was run up by John Paul Jones. The words "Don't Tread on Me" were evolved from an incident of the times. Lord North had declared that he would never relax his coercive measures until he had brought America to his feet. The sentence is an answer to his Highness and a warning as well. It said, that should he accomplish his purpose, it would be as dangerous to tread on America as it would be to tread on her symbol – the American rattler.

---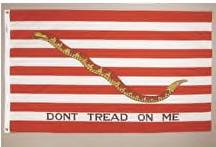 First Navy Jack Flag
3' x 5'
Nylon $39.80
Polyester $10.00
Flown by the first American Navy as it assembled under Commodore Esek Hopkins, the legendary First Navy Jack has since been a symbol of both the American Navy and spirit. The traditional thirteen stripes are crossed by a Timber Rattlesnake, which was especially significant in the American Revolution, as it became an avatar for the Colonial attitude. The snake does not strike unless provoked, and gives warning first with its rattle, which shown on the flag has thirteen layers. The bold words, "Don't Tread on Me" reiterate the point and ensure that it is understood. Currently, in accordance with the orders of Secretary of the Navy, all US ships are to fly the First Navy Jack for the duration of the War on Terrorism, in honor of those killed on September 11, 2001.

---
Money Makers Flags
713-461-1153